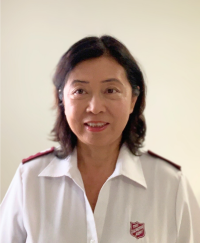 Winnie Ng is a chaplain with the Salvation Army, and she loves using Triple P to help parents and carers with evidence-based resources that make a real difference to the community's well-being.
Although she's now based in Sydney, she's grateful for her time spent working in Queensland as she was equipped with free professional development that empowers her in her current role.
Thanks to Queensland Government funding, professional development in Triple P for practitioners who provide free family support is available at no cost.
Winnie's main focus is to look after her community's wellbeing and promote connection.
"Very often, family and parenting come up. I think most people would think of parenting as something they are proud of – they are proud to be a mother, a father, a carer.
"They embrace that role but very often they would like to do better. They want to have a positive parenting experience and a good environment for their children to thrive."
Winnie is now accredited in multiple Triple P programs and offers a range of free Triple P services, including monthly seminars, one-on-one consultations, and group discussions in both English and Chinese.
"There are no vague ideas – everything is very helpful and detailed. I like how practical it is –families can learn phrases that can really assist with problems.
"Many people come back to me and say there's been a transformation in the family. There are lots of good stories and success."
Winnie says parents find it reassuring that the program starts with them.
"It is really about empowering the parents to use a positive strategy along with teaching them about some of the traps, such as escalation, and accidentally reinforcing negative behaviour.
"It then all makes sense, so next time they can avoid those traps," she says.
"They feel empowered to develop good routines, set up some ground rules and manage misbehaviour. They can choose whichever strategy suits their situation and I work with them on what they could do differently – it's guiding them and helping them to come up with some answers themselves."
The self-regulatory approach also means they gain confidence, she says.
"Parents come back and tell me: 'wow, it's different now'. The kids also notice the change in the parents."
Winnie enjoyed all the Triple P training and has incorporated a key aspect into her own work.
"Our trainers were very knowledgeable, hopeful and encouraging. Michael Herd introduced me to the concept of 'what went well and what would you do differently?'
"It's become my approach now. I always use it with the parents I work with, and colleagues have picked it up from me and also use it. It's such a helpful kind of self-reflection – it's simple and it really works.
"For instance, there was one parent who took the approach of correcting behaviour, and saying 'you're not doing this, you forgot your shoes'. It was always focusing on correcting and the negative, so we talked about descriptive praise.
"Initially, the parent said they had nothing to praise. But with some self-reflection, and using a journal to write things down, she became more aware of what her children were doing that was praiseworthy.
"Using that descriptive praise and language came to her more naturally. It was one simple strategy that also meant she was paying attention and spending time noticing. The kids said they liked this mum more! It's very heart-warming.
"Parents and carers also learn that in the future: OK, keep calm and think of the positive, take a bit of quiet time. Avoid the trap and use the strategies to diffuse a situation."
Winnie says she highly recommends Triple P to her colleagues.
"I've seen so many good outcomes, success stories and families being blessed with what they've learned," she said.
"I would like to see Triple P grow in many more places because I know truly that it's a wonderful parenting program."